The World Cup is upon us!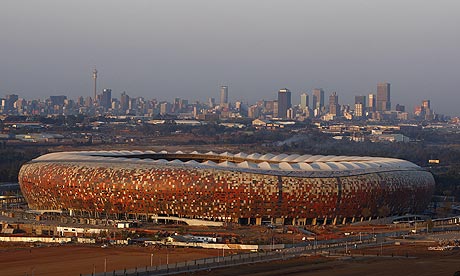 I'm so excited about experiencing my first World Cup where I actually understand more about the game, and I actually know who some of the players are (thanks, G). New York is shaping up to be a great place to watch the games... Here are few cool "spaces" in the city to watch the 2010 Copa Mundial!
#1 -
Puma City
- you can go down to the South Street Seaport to catch some of the games, among many other activities, at this "city" built just for the World Cup.
#2 -
Men with Balls
- visit this art exhibit that will be combining the art of soccer along with a space for screening some of the high-demand games.
#3 -
Madiba
- this will probably be my go-to place. Not only is it a wonderful South African restaurant, it's also in my n'hood. Oxtail for breakfast? Yes, please.
So, I guess the only thing left to say is.... COME ON, YOU YANKS!!!